Where are we headed?
What exactly does it mean to be sustainable and do behaviors that people follow determine if they are or are not following a sustainable lifestyle or does sustainability have to be engrained into the core philosophy of an individual?
I do not know the answer to this question, and I will not attempt to get to the bottom of what drives people to choose sustainable choices be it monetary, spiritual, or moral. In the past few months I have found myself thinking about not what draws people to becoming sustainable but the deeper question of does it matter how we live and how can we, as individuals make decisions that will help protect the earth. The earth needs to be protected not only for future generations but for those of us alive because the world and unexpected climate events are already impacting the world and causing irreversible effects. Instead of playing a blame game of who should take the burden of climate change the only path forward is to work with individuals, non-profit institutions, and corporations. While full cooperation is impossible the world needs cooperation on a stage never seen before to offset the costs on the economy and more importantly the environment.
Center for Climate Integrity
A recent report from the Center for Climate Integrity highlights the pressing nature of sea level change and how this one aspect of climate change will have immense impacts on coastal communities, the economy of the entire nation, and millions of Americans. This study highlights impacts of one of the major aspects of climate change being rising sea levels and how to handle the costs of these changes. Coastal regions have vast importance on ecological, economic, and cultural importance with vibrant communities. These communities also are home to many marine mammals, birds, and unique ecosystems including salt marshes and lowlands which add to the beauty of the coastal communities and can help as carbon sinks in marshlands that can reduce carbon emissions in the atmosphere.
Coastal Impacts
Beyond the beauty of these coastal regions, commercial fisheries and farms in these coastal regions provide fresh food and jobs. Many of the areas which will be hardest hit by the increased sea levels are popular tourist destinations which provide a valuable tax base and employment opportunities to communities. From the Florida Keys to the Eastern Shore of Maryland and the Outer Banks of North Carolina popular summer destinations face increased risks of rising sea levels. North Carolina, faces the third highest cost in the lower 48 from rising sea levels with projected increased costs in the Old North State to be over $35 billion by 2040. This places the economic costs behind only Florida and Louisiana and part of the total costs which could exceed $400 billion over the next 20 years with many of the costs incurred over the next decade.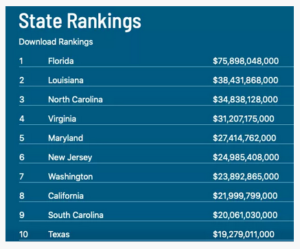 Projected costs to build sea walls by state. Credit Center for Climate Integrity
Now what
The first step in advocacy is understanding the issues at hand, gaining background information about the causes of climate change and sea level rising will allow for beginning the dialogue on these issues. Here in North Carolina, some unique geography in the northeast part of the state means the one congressional district, the 3rd District, has the highest economic impact of any congressional district in the nation representing over 80% of the total cost in the state from sea level rise. While congressional district boundaries change the impacts of coastal changes from rising sea levels will dramatically impact the tourist centers of the Outer Banks.
The small coastal communities that many people only think about during yearly beach trips or when shrimp cocktails are order face uphill battles and will bear the brunt of the burden of rising sea levels. All is not lost. Actions can be made which will help protect the coastal communities including reaching out to local politicians, beginning conversations about how to combat climate change, and making purchases when possible to companies that value sustainability. The fight to protect our coasts is not over and by understanding that actions can be taken the coastal ecosystems can be protected.
The costs of climate change can not be thought of as after thoughts because communities are already dealing with the effects of climate change and rising sea levels. The impacts of climate change are not set in stone and can be minimized through advocacy, taking individual decisions to reduce your carbon footprint, and taking the steps to hold large corporations accountable for their carbon emissions and incentive sustainable investments.
Sources
Debruyn, Jason. "Rising Seas To Cost NC $35B In Just 20 Years, New Study Finds." WUNC 91.5 North Carolina Public Radio. Retrieved from https://www.wunc.org/post/rising-seas-cost-nc-35b-just-20-years-new-study-finds.
"Study: U.S. Costal Communities Face More Than $400 Billion in Seawall Costs by 2040." IGSD: Institute for Governance & Sustainable Development. http://www.igsd.org/study-u-s-costal-communities-face-more-than-400-billion-in-seawall-costs-by-2040/.